Once you buy a swimming pool or a spa, it is important to install a high-quality pool filter cartridge along with it to keep the water of the spa or the swimming pool clean and free of impurities. However, after a prolonged use, there is a need to replace the filter cartridges. Finding the right pool filter cartridge replacements can be a confusing task as the market is flooded with a wide range of products having different specifications. This task becomes simplified if you are aware of the measurements of your existing filter. Here is a guide to get you started:
Measure the end cap's outside diameter and take a note of the exact measurement. A variation of + or - 1/16th inch is acceptable.
Next, measure the length of the cartridge from one end cap to the other. Be particular with the measurement and do not measure any extension or handle. Again, only a variation of + or - 1/16th inch can be accepted.
The top inside the diameter is the next that should be measured. To make the right pick of replacement filter cartridges, keep the measurement exact.
Once through with this, take a measurement of the bottom inside the diameter.
Make an effort to note the model and name of the pool filters from which you are taking out the cartridges.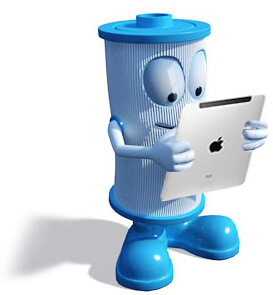 Once you have noted the measurements, choosing a replacement filter becomes easy. Look for a replacement cartridge having the same specifications. You can also select the option of online shopping as various online shopping sites offer branded products at low prices. All you need to do is match the specifications that you have noted with the products available online.
Tip: Once you have replaced the cartridge of your filter, make sure you clean it from time to time. This will keep the filter running efficiently for a long time period of time.